Engineering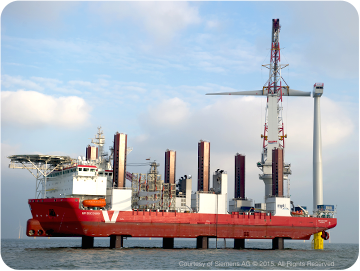 The Project could provide a range of electricity generation capabilities from 400 megawatts in the first phase and other possible phases depending on the need for clean renewable energy in the future.
There have been major advances in offshore wind technology and engineering in the past decades, ensuring the project today can be delivered as efficiently and at a greatly reduced cost.
Experts in Engineering, Design and Construction
Northland is a recognized international expert in procuring, financing, building and operating large-scale renewable energy projects. This expertise will ensure the most cost effective and innovative solutions are available for the construction and operation of their Project.
Project Layout
The Project is at an early stage of development but has completed considerable preliminary layout work. The Project would be located off the coast of Haida Gwaii in Hecate Strait, an area known for strong, consistent and reliable wind, where approximately to 30-12 MW to 15 MW wind turbines could be installed to provide approximately 400 megawatts of clean, renewable energy to serve B.C. homes and industry.
Considerable geophysical survey of the Project site has been completed, which includes detailed mapping of the seabed, water depth, topography and other related information that will support the development of the most efficient project layout and engineering.
"During its entire lifecycle the wind power plant produces 23 times more energy than it consumes."Siemens, 2014
Location – Why Offshore?
Wind over the water is generally stronger and more consistent than wind over land. With fewer obstructions such as hills, man-made structures or even trees, offshore wind produces more energy, more efficiently and more consistently than onshore wind.
Wind, wave and climate data collected from the meteorological station in Hecate Strait, together with data from the nearby Rose Spit weather station has yielded more than 19 years of correlated wind data. All data confirms the Hecate Strait's wind resource to be "world-class in nature".
How Will the Electricity Generated get to Homes and Businesses?
Submarine cables are used to transmit electricity from the offshore wind turbines to a transformer station on land. Here the voltage is converted, and electricity is transmitted to homes, businesses and industrious within the BC Hydro electricity transmission grid. In British Columbia, BC Hydro is the main purchaser of power for redistribution to residential and business customers.